Live Webinar: Agile Test Data Platform for Agile Teamwork
March 21 @ 11:00 am

-

12:00 pm

EDT
XDM gives your team the power to build an agile test data platform. Join our webinar on March 21 where we'll demonstrate how the XDM test data platform:
Identifies the ideal test case data that fits your test case needs
Allows you to easily order the test case data once it's identified
How data is provided to the test systems
Protects data from being overwritten by other test data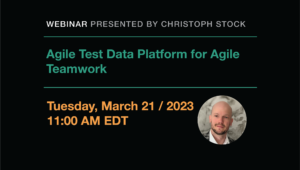 Learn how to create a pipeline for test data that embodies the combined knowledge of testers, DBAs, system engineers, application architects, data privacy specialists and security officers that can be conveniently accessed through an online form in your personalized test data shop.
With UBS Hainer's XDM test data platform you can model the data relations of applications over database boundaries for on-prem data and cloud data. Join our webinar on March 21 to find out more about XDM. See how easy it is to back up multiple generations of the same test case data. And never worry about unmasked data again!
<br>
XDM is a comprehensive test data management product that automates test data management and improves the speed and quality of software development and testing operations.  It is designed to manage agile test data across multiple platforms consistently. By deploying XDM to automate test data management, you can improve quality, increase productivity, and deliver quicker ROI to your business. It handles all the challenges typically associated with test data provisioning, such as managing structural differences, masking sensitive personal information, and choosing the most efficient method of copying and moving test data. It frees up your staff from tedious and lengthy provision and preparation of test case data. XDM complements Agile Development with Agile Test Data Supply and supports Continuous Integration.